Touring Thailand with Mobisun solar panels.
The two travelers Thom and Esmée planned to travel around Thailand for a while, using sustainable solutions for charging their phones, lighting their rooms or taking photos with a sustainably charged camera. On the trip, Thom and Esmée took Mobisun' s portable solar panels and this is their story.
The trip began at the airport in Amterdam, at Schiphol the plan there was to fly to Bangkok and continue directly north to Chiang Mai. After a 12-hour flight to Bangkok and a 2-hour onward flight to Chiang Mai, the batteries on Thom and Esmée's smartphones were dead. Thom; "After such a long trip you are tired and want to listen to music from your phone, unfortunately it was empty and we didn't have a charged power bank in our carry-on luggage. Luckily we had brought the Mobisun 2 in our bag and were able to charge our phones with the power of the sun.".
The first night Thom and Esmée stayed in the city of Chiang Mai but early in the morning they planned a jungle trek that would last two days. So the overnight stay would be in a local village of 25 inhabitants where there is no electricity. Esmée; "The first day was grueling, we walked for 5 or 6 hours straight through the jungle with our guide in the middle of nowhere. In the village where we could rest, there was no electricity and we had to make do with a few lit candles to see each other. Here again the Mobisun came in handy, we used the solar panel to charge our power bank and to power a light so we still had some illumination at dusk. The locals there still live without the technology we know here and so were all raving about the Mobisun solar panels."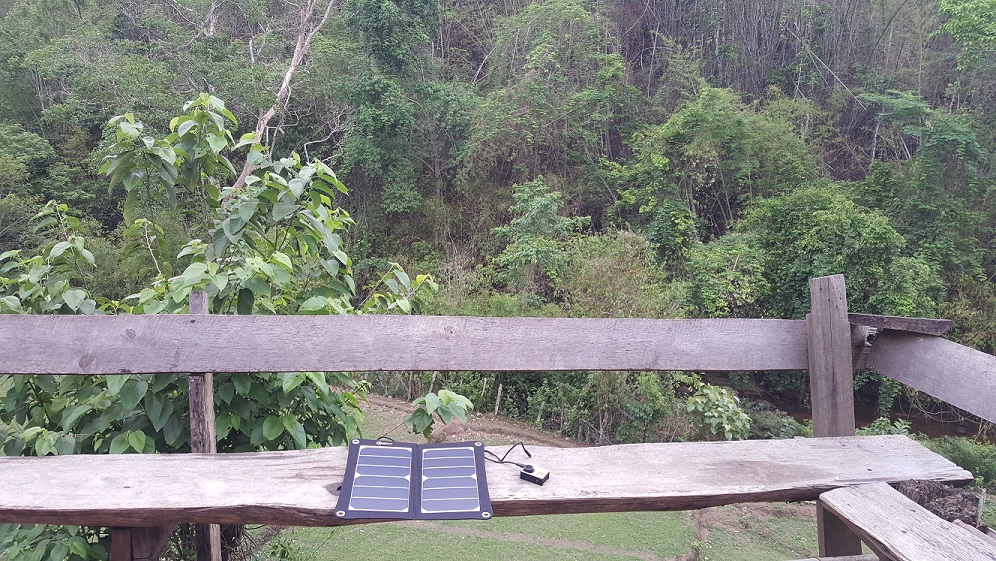 Sun, sea, beach and Mobisun.
After the jungle trek, Thom and Esmée flew to southern Thailand and arrived in the coastal town of Phuket. Phuket's vibrant nightlife and great white sandy beach are the big draws of the Patong region of Phuket. Meanwhile, Thom and Esmée had been traveling for four days and had not yet had to use a single electrical outlet. Even in Phuket, electrical outlets turned out to be unnecessary and the two only needed the power of the sun. Thom; "The nice thing about using renewable energy is that every European needs an adapter to use the Thai sockets. So this needs to be purchased again and costs money. Thanks to our portable solar panels and powerbanks from Mobisun, we didn't have to buy them, and we got a lot of attention on the beach. People came to ask if they could lift the solar panel because everyone thought it would be very heavy. The faces of those people are hilarious when they find that the solar panels are ultra-lightweight."
And on again, after 3 days in Phuket, Thom and Esmée headed for the next destination. The beautiful islands of Koh Samui, Koh Tao and Koh Phangan. Esmee; "Here you feel like you are on a postcard beach. With locals raving about our sustainable solutions, we have now come into contact with owners of restaurants, souvernir stores and information kiosks who all want to use the Mobisun solar panels. It seems that local people in Thailand are in need of sustainable energy solutions. For example, we have also inquired with residents of Koh Samui about the costs of energy consumption, these are incredibly high in relation to income and therefore they want to use sustainable solutions such as solar energy."
A vacation without an outlet.
Thom; "It may seem strange but in the 14 days we traveled through Thailand we didn't use a single electrical outlet. Every day we took Mobisun' s portable solar panel and charged our electronsiche devices and with that we were able to move forward. Charging the devices is also faster with the Mobisun than with a plug in socket, definitely recommended for the impatient among us. Mobisun's portable solar panels have opened our eyes". Esmée; "We saw how people in a country with a lot of poverty struggle to pay the energy bill. Sustainable solutions such as Mobisun Solar Panels can help millions of people worldwide. We are going to take the mobile solar panels with us every vacation and use them, if only to demonstrate that the energy of the sun can be used by everyone."
Thom and Esmée; "We recommend everyone to use the Mobisun portable solar panels, the power of the sun is free to use and many people can be helped with that. Save on energy costs, go for sustainability with the Mobisun portable solar panels".
Tip: Are you going backpacking and want to advertise your company, organization or association at the same time? Then get your bags printed!