Laptop charging with a power bank
No more fumbling with long wires or searching for an outlet. Mobisun's laptop powerbank is the solution for easy, mobile charging of a laptop or MacBook. This powerful laptop charger provides mobility and extra power when and where it is needed. The Mobisun power bank for laptop is lightweight (only 1,144 grams), fits well in a briefcase or backpack, and fits seamlessly with modern laptops in terms of design.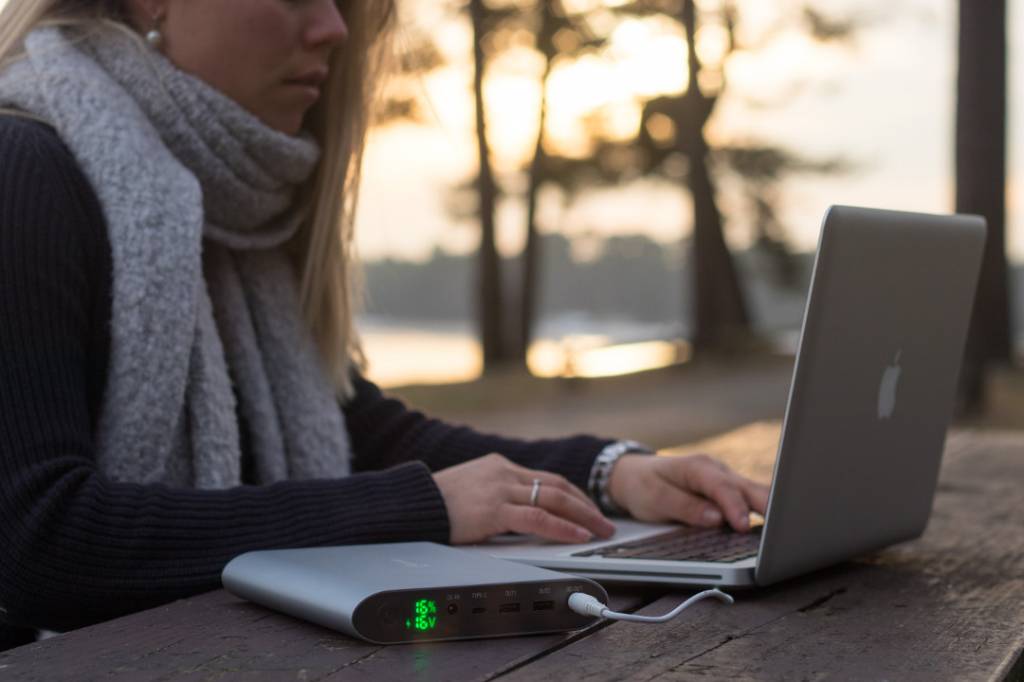 What connections does the laptop power bank have?
Mobisun's laptop powerbank is the most complete laptop charger on the market making it connectable to virtually all laptops and MacBooks. Therefore, the Mobisun laptop and Macbook charger comes with a set of accessories (as many as 28 pieces) that includes almost all connections for laptops and Macbooks. Combined with the high output of up to a whopping 94 watts, virtually all laptops and Macbooks can be connected and charged to the laptop power bank and prevent battery drain.
Mobisun's laptop powerbank features:
DC Input : 19V 2A adapter or Mobisun 60/100 solar panel

DC Output : 5V/8.4V/9V 3A (max) – 12V/16V/20V 4.7A (max)

USB Type-C port @ 5V 3.5A (max)

USB output 1 : 5V/9V/12V 3A (max)

USB output 1 : 5V/9V/12V 3A (max)
With the Mobisun laptop powerbank, you can charge the following devices:

Laptop (up to max 94W) with 28 type adapters

MacBook (Air / Pro / Retina) Magsafe 1 & 2 compatible

Digital camera

Projector

PlayStation Portable

Wireless router

Tablet

Smartphone

USB lamp

Other USB devices
The laptop power bank can be ordered here.
Partners of this article: